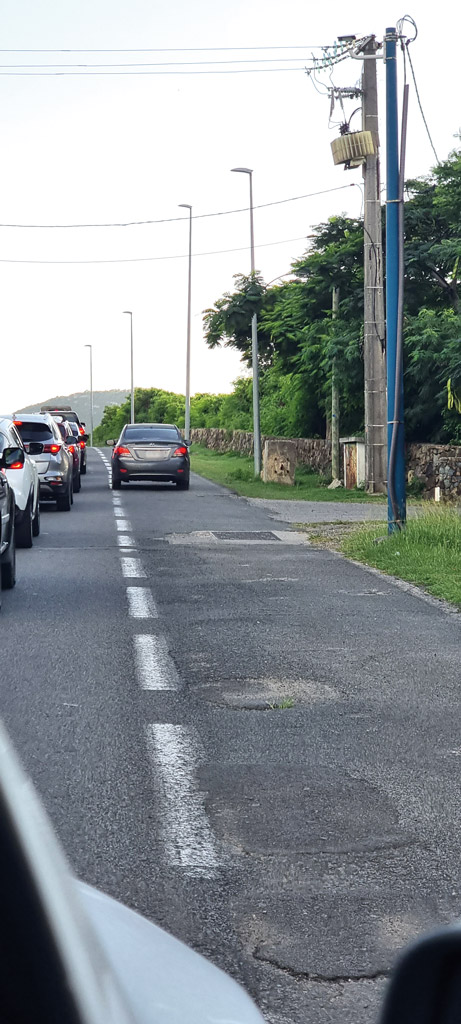 Security studs protecting the sides of the road to Bellevue were torn down. Vehicles enter the pedestrian lane to overtake the only traffic lane on the right. Unacceptable behavior that endangers the lives of others.
In order to limit the risk of accident, the community had to install construction barriers and signage as of yesterday, Thursday January 12, in order to limit these dangerous behaviors.
The police will be present at certain times to verbalize line crossings.
"More substantial security work will be undertaken with a project management team in order to better secure this axis, from the first half of 1", specifies the Collectivity.
Joggers or walkers regularly take this route. The elected officials and the gendarmes call the motorists to stop dangerous behavior immediately.
The citizen collective for road safety in Saint-Martin is on the rise!
In a message posted on their Facebook account, the citizen collective for road safety in Saint-Martin denounces the dangerousness of taking the road to Bellevue, especially for pedestrians. "It is becoming more and more dangerous to walk or jog on the Bellevue straight line since the last protections have been removed and cars (including taxis and mini buses) pass there to avoid traffic jams. While waiting for the road to be secured as soon as possible, PAY ATTENTION "! _AF
9,450 total views