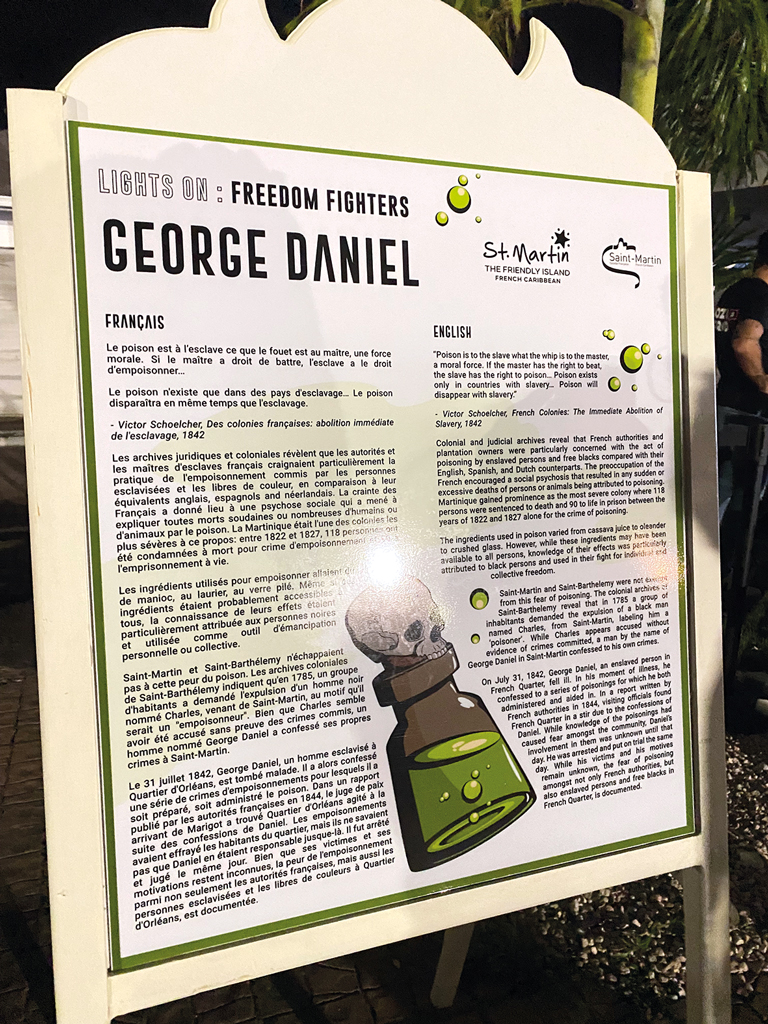 Last weekend, several theatrical performances were held at the new Tourist Office information kiosk on the waterfront in Marigot as part of the "Lights on: Freedom Fighters" project. The story of George Daniel, the Robin Hood poisoner, was told there.
In the wake of the 174rd commemoration of the abolition of slavery in Saint Martin, the Tourist Office and Stéphie Gumbs launched "Lights on: Freedom Fighters", a free artistic and cultural concept offering theatrical performances enhanced by a sound and light experience ( visual art by Nozin Prod) which tell the story of emblematic local characters, actors of the resistance in the time of slavery, show performed in French and in Saint-Martin English. The life of One Tété Lohkay was told during the first edition at the end of May, it was George Daniel's turn to be highlighted. Victor Schoelcher wrote in the book "French colonies: immediate abolition of slavery" dating from 1842: Poison is to the slave what the whip is to the master, a moral force. If the master has the right to beat, the slave has the right to poison… Poison only exists in countries of slavery… Poison will disappear at the same time as slavery. George Daniel, a slave in Quartier d'Orléans, fell ill on July 31, 1842. He then confessed to a series of poisoning crimes for which he either prepared or administered the poison. In a report published by the French authorities in 1844, the justice of the peace noted some unrest in Quartier d'Orléans following the confessions of George Daniel. The legal and colonial archives also reveal that the French authorities and slave masters particularly feared the practice of poisoning by enslaved people. The ingredients used to poison were accessible and attributed to black people, to be used as a tool for personal and collective emancipation. George Daniel understood this well and his form of resistance and fight against slavery resulted in this illegal practice. Although his victims and his motives remain unknown, George Daniel reopens the debate of morality, right and wrong. And the second edition of "Lights on: Freedom Fighters" succeeded in transcribing it with respect, pedagogy and talent. George Daniel was a complex, apolitical character testing his conscience in dire circumstances, resisting in his own way, on his scale and with his herbal knowledge to fight the scourge of slavery. The show offered last weekend was non-judgmental, it highlighted the atypical journey of a man fighting for his life. _Vx
Next performances: from Friday 29 to Sunday 31 July with the story of Auguste-François Perrinon.
543 total views, 6 views today