The SXM Road Safety Association organized on Monday 16 and Tuesday 17 May, from 9 a.m. to 16 p.m., road safety awareness and training for 122 middle school students from neighborhoods classified in City Policy, from Soualiga College, to the Cité Scolaire .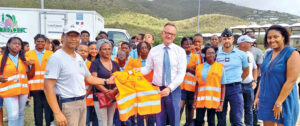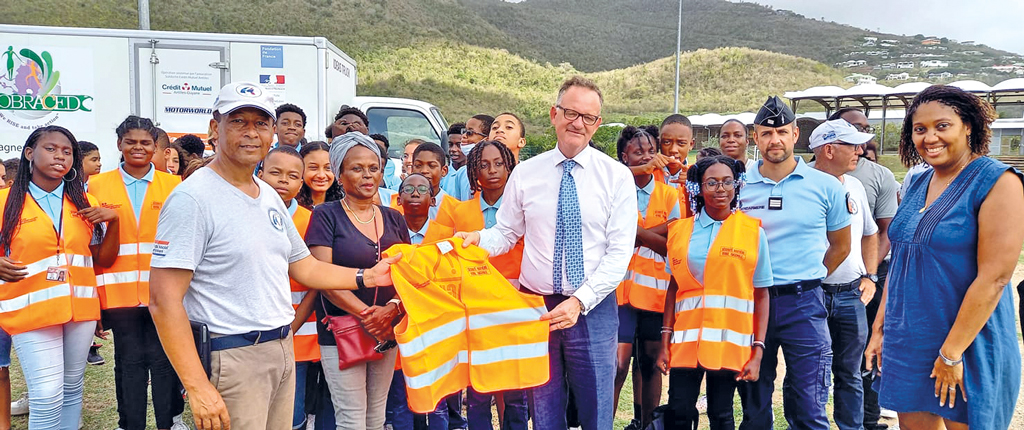 These monthly days are organized in partnership with the direction of the Soualiga college and the National Education and financed within the framework of the City Policy. The setting up of four Highway Code learning workshops, with a specific focus on two wheels, once again made it possible to raise young scooter drivers' awareness of the dangers of road traffic.
the Prefect Vincent Berton, the Director of Cabinet Services, Julien Marie, the Prefect's Delegate for City Policy, Véronique Coursil, the Vice-President of the Collectivity, Dominique Louisy, the Deputy Principal of the Soualiga College, Cyrille Busso and the deputy commander of the Saint-Martin gendarmerie company, François Deneufgermain were present on the ground, meeting the actors of the SXM Road Safety association chaired by Thierry Verres, as part of their awareness workshops set up at the Cité School Robert Weinum.
Four workshops were thus available to teenagers, in particular on the use of two-wheelers and the behavior to adopt on the road.
The 1st workshop is the learning of the essential theoretical data of the Highway Code, related to two wheels.
the 2rd workshop is based on the fight against addictions to alcohol and all narcotics, the primary causes of bodily and fatal accidents in Saint Martin and Saint Barthélemy.
The 3rd workshop is a two-wheel simulator, allowing a simulation close to reality and allowing a real awareness of the consequences of non-compliance with road traffic rules.
The 4th workshop is a 50cm cube motorized course, allowing a first learning in accordance with the good rules of scooter traffic. _AF
758 total views, 6 views today