Fever, cough, cold, fatigue, body aches, if the flu experiences a slowdown in its circulation in mainland France, the virus does indeed settle in our territory. In its report of January 4, Public Health France classifies Saint-Martin in the pre-epidemic phase.
In addition to the drop in transmissions observed in mainland France, influenza viruses have been raging since the start of the season last November and have remained at a high level. Santé Publique France warns of a possible rebound despite declining indicators in city medicine and emergencies. A marked increase in hospitalizations is highlighted, as well as deaths, especially among people aged 65 and over. All of the overseas departments and regions are currently in the flu epidemic phase except for our territory classified as pre-epidemic. Caution must therefore be doubly appropriate to prevent the spread of the virus, especially since a certain diversity of types and subtypes of influenza virus is observed. In Guadeloupe, the positivity rate for influenza was on the rise with an average of 38% during the last two weeks of December 2022. Two serious cases were admitted to intensive care.
The decrease in the circulation of the influenza virus is explained by the end-of-year holidays which slow down the epidemic phenomenon. A rebound is often observed after the start of the school year, which should encourage the population to maintain the greatest vigilance during this month of January. It is essential, sometimes vital, for people at risk to protect themselves by having recourse to vaccination against seasonal flu and covid-19 which, admittedly, has become more timid in recent months, but is still relevant, causing known damage. In addition to vaccination, the best prevention is to systematically adopt the barrier gestures that have been more than neglected recently. Washing your hands, coughing and sneezing into your elbow, using a single-use handkerchief, wearing a disposable or washable mask, ventilating each living room, staying away from others and limiting contact, all these gestures of social distancing are possible. - be a measure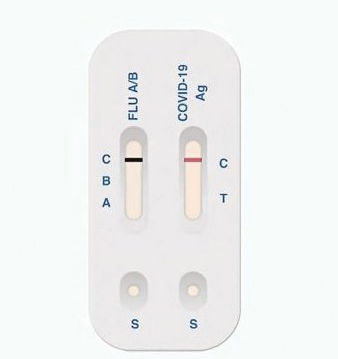 considered unfriendly for some but they are, in this context, an effective way to protect against respiratory infections and their complications by limiting the risk of transmission of these viruses to those around them, especially people at risk of a severe form of flu. In short, they protect and save lives. Take care of yourself and others._Vx
Good to know: A rapid diagnostic orientation test (TROD) for influenza can be performed in pharmacies, at the doctor's office or in a medical laboratory to detect influenza A or B viruses (the most frequent types during seasonal epidemics).
3,454 total views, 3 views today