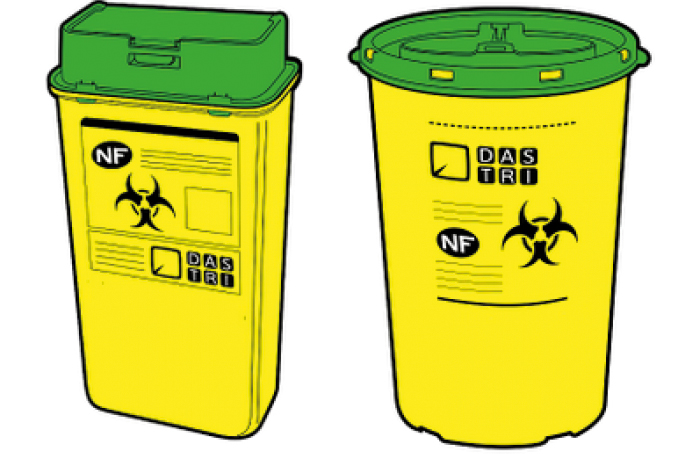 DASTRI is the national eco-organization which collects and treats waste from healthcare activities with infectious and similar risks (DASRI) that are perforating from 2 categories of beneficiaries: patients in self-treatment and users of self-tests for the diagnosis of diseases transmissible infections.
Concretely, a diabetic who injects himself at home has a yellow box given to him by the pharmacy and which is also collected by the same pharmacist once full or once he no longer needs it. The box is then destroyed by trivialization, which is a system that aims to destroy all pathogenic germs and to make the waste non-hazardous.
The activity of the DASTRI eco-organization will revolve around three missions:
The distribution of needle boxes for patients
• The free provision of specific collectors called "needle boxes" in all community pharmacies and pharmacies for internal use in healthcare establishments. These boxes are given free of charge to patients in self-treatment and users of self-tests.
Collection and disposal of healthcare waste
• The collection and elimination of these needle boxes according to the environmental regulations specific to the DASRI.

Information and awareness
• Information, communication and awareness-raising for all players in the sector (beneficiaries of the system, health professionals, local authorities, operators in the waste sector) to encourage sorting.
This device is fully supported by DASTRI.
Laurence BOURET, General Delegate of DASTRI will be present in Saint-Martin on January 9th and 10th.
The opportunity for her to meet the professionals of the island as well as all the actors. _AF
3,094 total views, 4 views today