Thanks to the Pel'icarus association, five Saint-Martin students will have the opportunity to participate next month in the "La Croisée des Talents" competition in mainland France.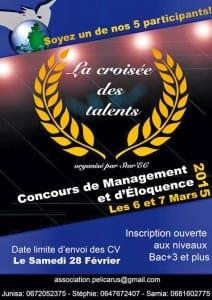 The "Young Talent of the Year 2015" prize will be awarded at the end of this management and eloquence competition, organized by the student association Star'EC of EDHEC Business School, which will take place in Le Touquet. For two days, 400 students will compete. "There will notably be negotiation simulations and oratorical games. Each event will be organized by the partner companies, "says Stéphie, a student in mainland France and co-founder of the Pel'icarus association, a support network for Saint-Martin residents. "It was the contest organizers who got closer to us for this 11th edition. One of them lived in Saint-Martin, "says Stéphie. This competition is also an opportunity for participants to meet the partner companies of this event, who will be on site to offer internships and jobs. "This is a good way to get noticed and thus enter the world of work," she adds.
Registrations are open for Bac + 3 and above. Your CVs must be sent before February 28 to the following address: association.pelicarus@gmail.com. For more information on this competition, which will take place on March 6 and 7, please consult the official website: lacroiseedestalents.com.
4,689 total views