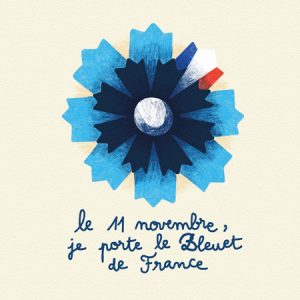 Every May 8 and November 11, the "Bleuet de France" is displayed as a symbol of solidarity with veterans, widows and widowers of war, wards of the nation, victims of war and terrorism, families of soldiers or police officers killed on duty.
Two nurses mobilize and create the "Bleuet de France"
France owes the Bleuet de France initiative to two women. At the end of the Great War, Charlotte Malleterre, nurse and daughter of the commandant of the Hôtel national des Invalides, and Suzanne Lenhardt, nurse major, decided to create a workshop for the residents of the Invalides. They make fabric Cornflower flowers there that they sell to the public. A project that allows them to work, regain a taste for life and earn some money. The "Bleuet de France" was born.
values ​​of respect
According to legend, the cornflower was one of the few flowers that managed to grow in trenches and battlefields ravaged by shells. She also reminds the blue of the uniform of the first soldiers and the first color of the French flag.
Today, the cornflower embodies the values ​​of respect, peace and tolerance dear to the entire fighting community. The cornflower is worn in France and in the overseas territories around the ceremonies of May 8, November 11 and July 14. _AF
5,064 total views, 11 views today