Last year 33 bodily accidents occurred in Saint-Martin according to the national interministerial road safety observatory. 37 people were injured and 10 were killed. This year, at the end of October, the gendarmes noted 28 accidents which required the opening of a judicial investigation. 36 people were injured and 5 were killed. Note that the five deaths occurred in five different accidents unlike last year where several road users were killed in the same accident.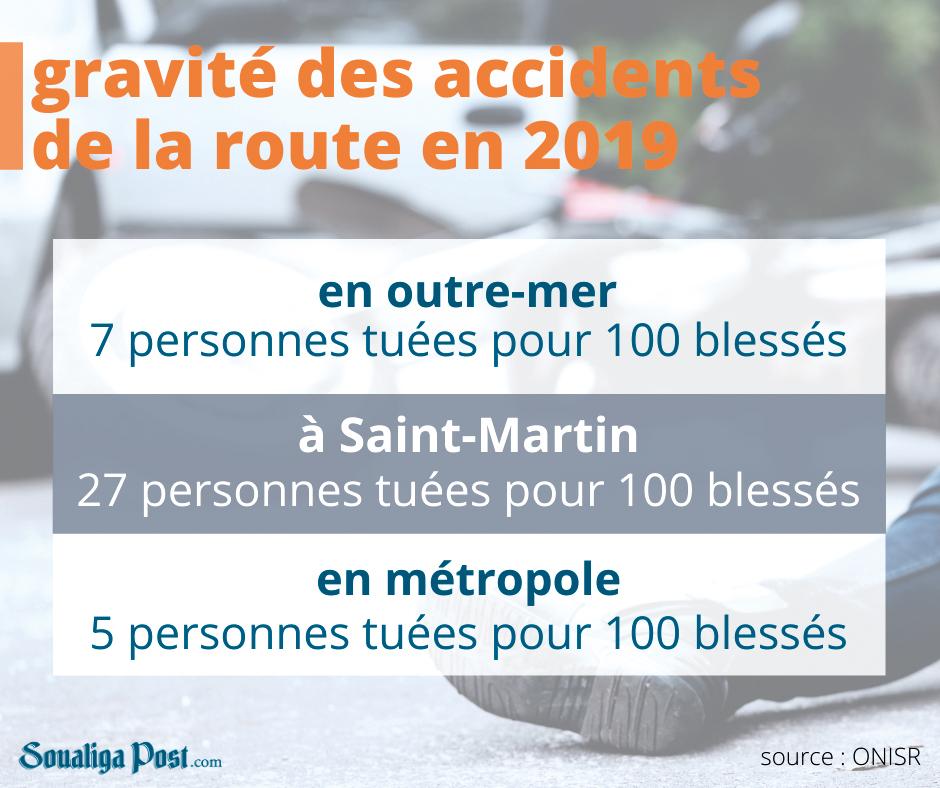 In 2019, if only 1,16% of bodily accidents observed overseas occurred in Saint-Martin, almost 4% of people killed in an accident overseas were in Saint-Martin. As a reminder, 254 people died in a road accident overseas, or 7% of road fatalities for France; people injured overseas represent 5% of injuries in France.
The national interministerial road safety observatory notes that with "7 people killed per 100 injured, the severity of accidents overseas in 2019 is higher than that of the metropolis (5 killed per 100 injured)". In Saint-Martin it is even more so even if it decreased in 2020: last year it was 27 killed per 100 injured and this year it is 13,9 killed per 100 injured.
By way of comparison, it is 17 in French Polynesia, 12 in New Caledonia, 6 in Réunion, 5 in Guyana and Martinique and 8 in Guadeloupe.
"The main cause of accidents is the behavior of the driver," said Commander Stephan Basso, squadron leader in Saint-Martin and Saint-Barthélemy. The three main behaviors noted being consumption of alcohol and / or narcotics (in most cases), dangerous overtaking and refusal of priority.
Generally speaking, two-wheelers are in most of the accidents involved. Their pilots are also the main victims. "Six of the seven people who have died in an accident since the beginning of the year in Saint-Martin and Saint-Barthélemy were two-wheeled drivers," said the gendarmerie commander. "In the Overseas Territories, 18% of the users of two-wheelers killed did not wear a helmet, against only 2% in metropolitan France. This proportion is 57% in Saint-Martin ", specifies the national interministerial road safety observatory. * Source: COM road master plan. (soualigapost.com)
1,967 total views, 3 views today