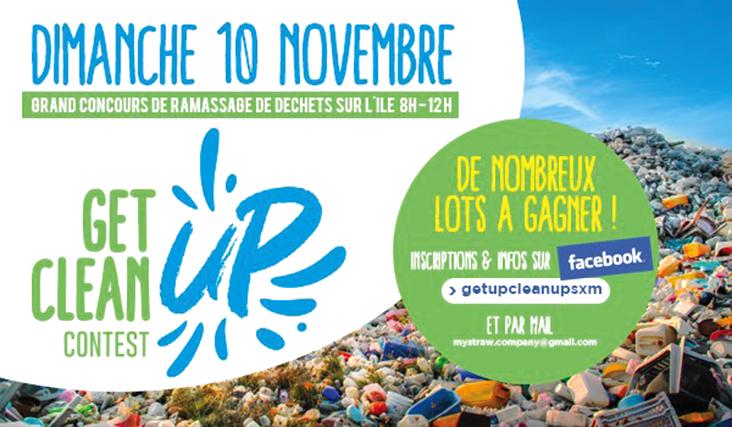 A little reminder to let you know that My Straw Company and Dauphin Telecom, with the support of the Collectivity and the Prefecture of Saint Martin, invite you to participate in the big waste collection competition "Get Up Clean Up Contest", on November 10th next from 8 o'clock.
The principle is simple, you register by team (eight adults maximum, unlimited children), you choose a place (5 defined zones, 1) Terres-Basses - Nettlé Bay - Sandy Ground, 2) Marigot - Agrément - Concordia - Galisbay - Bellevue, 3) Friar's Bay - La Savanne - Grand Case, 4) Orient Bay - Le Galion - Cul de sac - Anse Marcel, 5) Quartier d'Orléans - Oyster Pond) and the teams who collect the most waste will win prizes . A common objective: To clean Saint Martin before the tourist season and above all to strive to continue this effort of cleanliness.
As for the Friendly Island-Clean Island cleaning operations, carried by the Community in 2017 and 2018, skips will be installed in neighborhoods from Sunday November 10 to encourage the cleaning of private properties and contribute to this citizen cleaning day.
More than 200 participants have already answered the organizers' call. Well done to them! On the other hand, there are still missing teams on Cul de Sac, none on Friar's Bay (you have to make an effort!) And only two teams on Quartier d'Orléans. Volunteers are welcome. See you on Sunday ! _AF
More info and Registration on the facebook page: getupcleanupsxm
3,426 total views, 20 views today