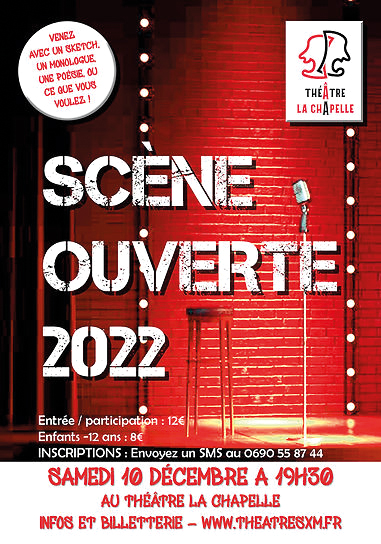 The new theatrical season promised to be hectic and the promise is kept.
After three high-quality plays, the Théâtre de la Chapelle closes the 2022 section with a final show dedicated to local talent on December 10 at 19:30 p.m.
The theater was full during the performances of the play "men hide to lie" which took place in early November. The duo composed of Vincent Piguet and Patrick Chanfray, who will return to present their one man show, won over the public with a game full of improvisation and interaction with the spectators. True theatrical troublemakers, the two actors unleashed thunderous laughter interspersed with moments of pure emotion. Their revisiting of French and international song standards was the highlight of the evening, not to mention the caterpillar launched at the end of the show. More recently, the Courtes Lignes company from Guadeloupe took over the stages of the Théâtre de la Chapelle to present its play "l'illusion conjugale" by Éric Assous. Active for 40 years, the troupe performed for the first time on the territory of Saint-Martin, to the great joy of the actors, Claude-Georges Grimonprez who signs the staging, Anne-Marie Clerc and Nicolas Petillon, and the public. came in droves to attend a show on the sensitive subject of infidelity, in all honesty. In 3 acts set like music paper, the classic theme of husband, wife and lover was treated with humor and marked by surprising twists. This Saturday, December 10 at 19:30 p.m., place at the open stage. For those who dream of being in the limelight, now is the time.
Like every year, the Théâtre de la Chapelle invites one-night or lifetime artists to come on stage for five minutes to present a number, an original or revisited sketch, a performance, the choice is free as long as it there is passion. Registrations are made by SMS (see info) until Monday, December 5th. Don't delay, glory doesn't wait. _Vx
Info: 06 90 55 87 44
www.theatresxm.fr
Ticket office open at the theater every evening from 18 p.m. to 19 p.m.
(except Saturday and Sunday)
5,379 total views, 12 views today