The La Samanna hotel of the Belmond group located in Terres Basses is starting the year 2023 with a choice artistic nod by inviting the great professional marine photographer, Greg Lecoeur, for an exhibition and a seminar on January 16 and 17.
The public, by reservation, is invited on a journey of discovery of the world immortalized by the camera of this artist elected best nature photographer of the year 2016 by National Geographic and best underwater photographer in 2020. Originally from Nice on the Côte d'Azur, Greg Lecoeur feels like a fish in water in this great blue that marked his childhood. Curious about marine biology, he took his first shots by diving. The seabed enthusiast will travel to the four corners of the globe to respond to the call of the sea that has haunted him since childhood.
These photographs are noticed, acclaimed and his work as an underwater photoreporter is hailed by critics. Author of the books "Antartica" (with Guillaume Néry and Florian Fischer), "Oceans: face to face" and "Sharks, guide to interaction", the artist declares "my camera is a means of expression and environmental commitment. With him, I capture the emotions of the living in order to amaze and raise awareness of the fragility of our oceans and the need to preserve them". Aware of evolving in an environment that can be hostile whether by underwater fauna or weather conditions, the work of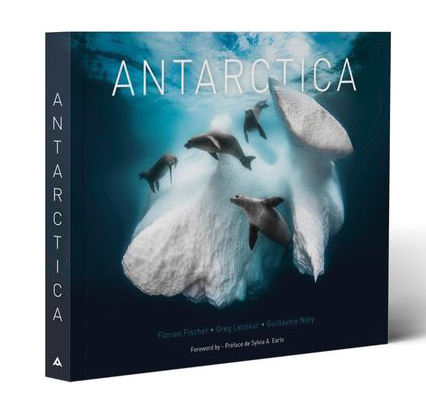 Greg Lecoeur focuses on environmental actions to raise public awareness on the issue of ecosystem preservation. Nature is rich in treasures that the photographer manages to capture with an excellence commensurate with his talent.
Contemplating a snapshot of Greg Lecoeur is a unique experience. In addition to aesthetic perfection, there is an unparalleled emotional dimension. The exhibition on January 16, from 17 p.m. to 18 p.m., will highlight the photographer's marine expertise and his contribution to an in-depth knowledge of underwater biodiversity through his most famous images. A seminar in the presence of the artist will take place at the Pavillon de la Samanna the next day, Tuesday, January 17 from 11 a.m. to 12 p.m., a seminar deeply committed to the oceans, their preservation and the enhancement of the environmental heritage of our planet. Places are limited, don't wait to book to participate in this unique artistic experience. _Vx
Info and reservations: reservations.las@belmond.com
4,554 total views, 10 views today