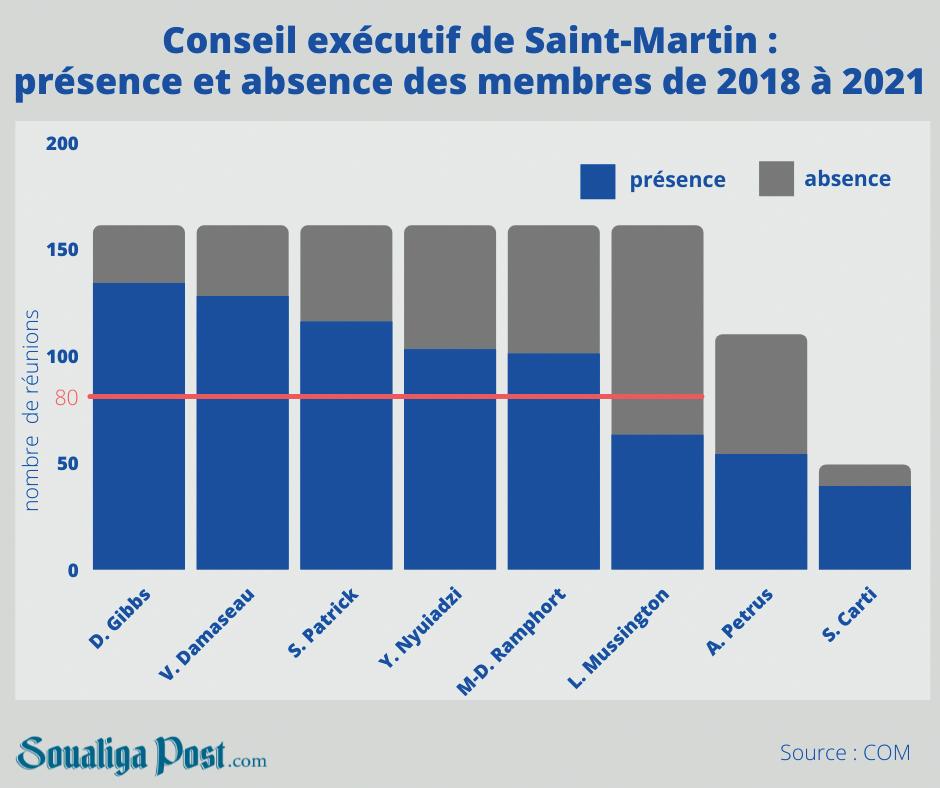 The community of Saint-Martin has an executive council (EC) which is composed according to the organic law of 2007 of the president and the four vice-presidents of the territorial council as well as two territorial councillors.
Thus sit on the CE Daniel Gibbs (president), Valérie Damaseau (vice president), Yawo Nyuiadzi (vice president), Steven Patrick (vice president), Marie-Dominique Ramphort (territorial councilor of the majority), Louis Mussington (territorial councilor of the opposition) as well as Sofia Carti (vice president) since October 2020 in replacement of Annick Petrus when the latter became a senator, the law prohibiting her from holding multiple offices.
Presences and absences members
In general, the number of attendances at meetings in 2021 was higher than in 2020 (75 against 65%).
The most absent elected official is Louis Mussington; last year, he took part in 20 sessions out of the 43 that took place, ie an attendance rate of 47%. Every year since 2018, he has missed more than half of the sessions.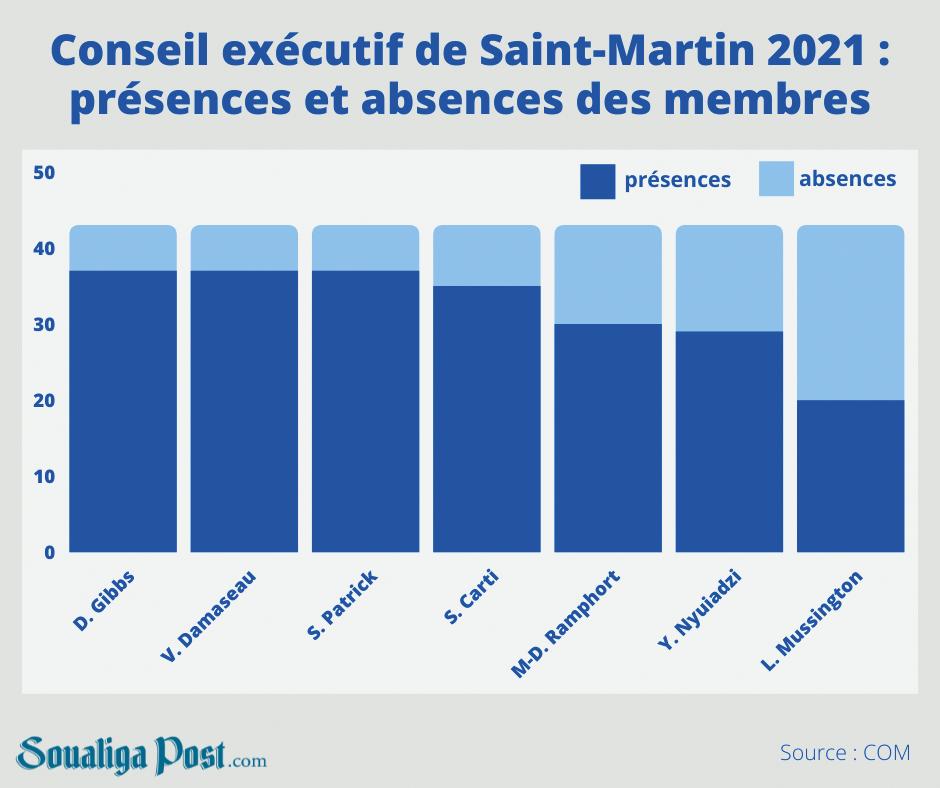 Another member of the executive council regularly absent, Annick Petrus. Between 2018 and the end of 2020 (resignation from office when she was elected senator), she was summoned 110 times and responded 54 times, or almost half.
Yawo Nyuiadzi and Marie-Dominique Ramphort have a respective overall attendance rate of 63 and 61% between 2018 and 2021, they attended 103 and 101 meetings out of the 161 that took place.
Steven Patrick is one of the elected officials who attended Executive Council meetings the most with an overall attendance rate of 72% between 2018 and 2021.
Sofia Carti, who succeeded Annick Petrus, is also a diligent elected official, she has attended 8 out of 10 meetings since her appointment at the end of 2020.
Valérie Damaseau also recorded an attendance rate of nearly 80%. Daniel Gibbs in his capacity as president, is the elected official who has been the most present. He missed 27 of the 161 meetings (17% of them).
1,218 total views, 8 views today