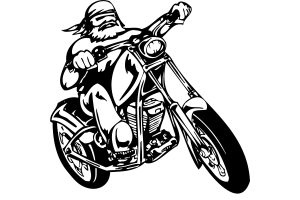 From Thursday, November 10 through Sunday, November 13, the Harley Davidson Club of the Caribbean Eagles is hosting its 14th annual Bike Fest. Bikers from all over the world are expected for this new edition.
Every year, around Sint-Maarten's Day, the Caribbean Eagles group organizes a large gathering of motorcycles in which motorcyclists from all over the world participate. According to the Acting Director of Activities, Jane Therond, "The Bike Fest is an opportunity to discover our island in a different way. This is undeniably a plus for promoting the destination. She adds: "As Sint Maarten is a small territory, we have to make sure to entertain the many bikers by offering a terrific program: different musical groups will be present every evening in the establishments, not to mention the famous T-shirt contest. wet, the Pole Dance competition, and many more surprises!
Safety first
The routes of the motorcycle tours depend on the day. "We circle the island clockwise one day and counter-clockwise the next – with our own traffic team to keep everyone safe. So, from November 10 to 13, please help us by giving the right of way to the procession, "explains Ms. Therond.
In the complete package, food and drinks are included. "We have a different menu every day. Sint Maarten being the Caribbean capital of gastronomy, I personally think this is one of the reasons why the same bikers keep coming back, not to mention the friendship and hospitality here. Now we are one big happy family."
The program
Thursday, November 10, the Caribbean Eagles will welcome everyone to the Soggy Dollar Bar starting at 17 p.m. for the Welcome Party with the Livin High Band.
Friday November 11, at 10:30 a.m., the ride begins: Bikers will leave from the Caribbean Eagles clubhouse and end at the Black Cross Club clubhouse, where they will spend the night during a live rock concert after a detour to Port-de-Plaisance!
On Saturday, November 12, after a morning devoted to shopping, bikers will meet at 17:30 p.m. at the Caribbean Eagles club house to go to the Soggy Dollar, where Control Band will play good local music. Many other activities are planned throughout the evening and night!
On Sunday, November 13, last day of the Bike Fest with the tour of the island scheduled from 10:30 am. Riders will once again start from the Caribbean Eagles clubhouse and end at Soggy Dollar, where a closing ceremony will take place, accompanied by some music from Percy Rankin and the Bonfire Band. All bikers are welcome to take part in rides around the island. The parties are open to anyone aged 18 and over. _AF
For more information contact
cesxmboard@gmail.com, therondnetto@gmail.com or check the Facebook page of the Caribbean Eagles.
6,691 total views, 3 views today